Isotonix OPC-3®, The Most Powerful Antioxidant Supplement on the market today!
In addition to reducing free radicals, Isotonix OPC-3 has a multitude of health benefits ranging from demonstrating anti-inflammatory activity, sinus relief, decreasing symptoms of mild allergies, cardiovascular health, promote joint health and eye and skin health.
AUD$131.50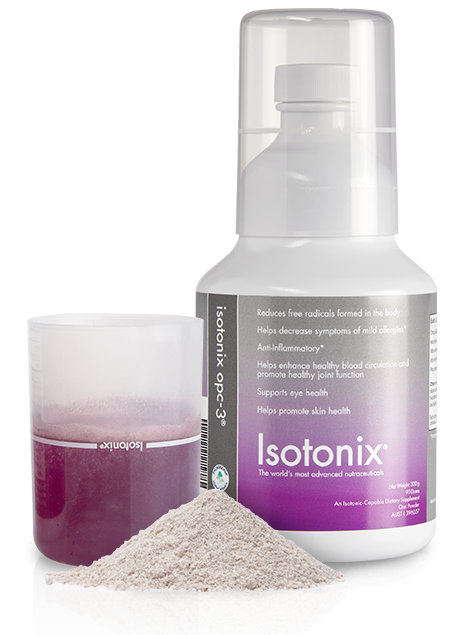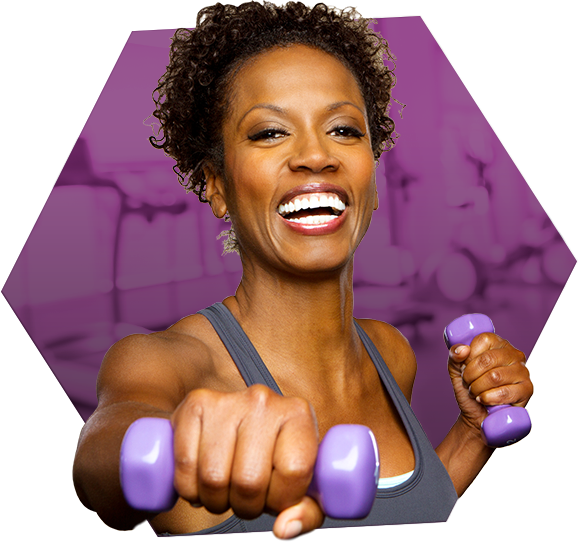 Primary Benefits of Isotonix OPC-3
Reduces free radicals formed in the body
*Anti-Inflammatory
Helps enhance healthy blood circulation
Helps promote healthy joint function
Supports healthy cardiovascular system function
Support eye health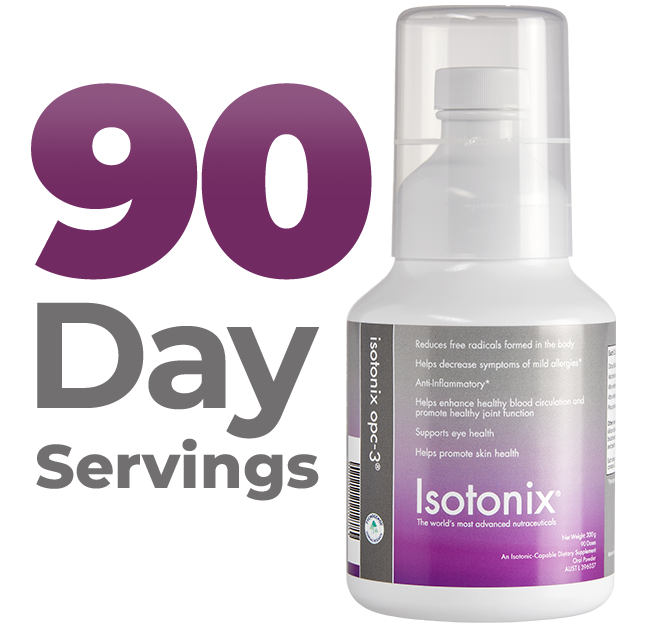 It's How Your Body Is Built To Take Vitamins
In order for a substance to be absorbed and used in the body's metabolism, it must be transported in an isotonic state. The isotonic state of the suspension allows nutrients to pass directly into the small intestine and be rapidly absorbed into the bloodstream. The secret of the isotonic process is probably now becoming clear! Isotonix dietary supplements are delivered in an isotonic solution. This means that the body has less work to do to in obtaining maximum absorption.
Additional Benefits of OPC-3
Studies have shown OPCs to be up to 20 times more powerful than vitamin C and 50 times more powerful than vitamin E in neutralising free radicals. Only Isotonix offers supplements in an isotonic delivery system, providing maximum nutrient absorption to help you feel your best.
Promotes blood vessel health
Helps promote skin health
*Relieve symptoms of sinusitis
Helps support healthy cholesterol
*Helps decrease symptoms of mild allergies
Customer Reviews for our #1 Selling Product
"I'm loving the OPC3!! Where have you been all my life? I'm 57 & this has made me feel so healthy! My Son gave me this for Mothers Day & the next few days my long distance vision became very clear! Wow!! And continues to be!! Feeling so much energy!! Thank you!!! This is my daily routine now!! 👍🏼"
by Vereen L.
"We are never too old, to buy and try a product that is going to help our well being. At 84 is not a good age and beyond, to battle with life. I have found after taking this product, I really feel like jumping out of my skin. I cannot thank the producer of this particular product OPC -3. Enough. I suggest whoever reads this......." Buy / Try. / Like / I."
by Hilma P.
Start Living Happier And Healthier, Order Your Isotonix OPC-3 Today!